POURO SATHI
A Public Grievance & Redressal System
An initiative by Barrackpore Municipality
User Manual of Pourosathi Web Portal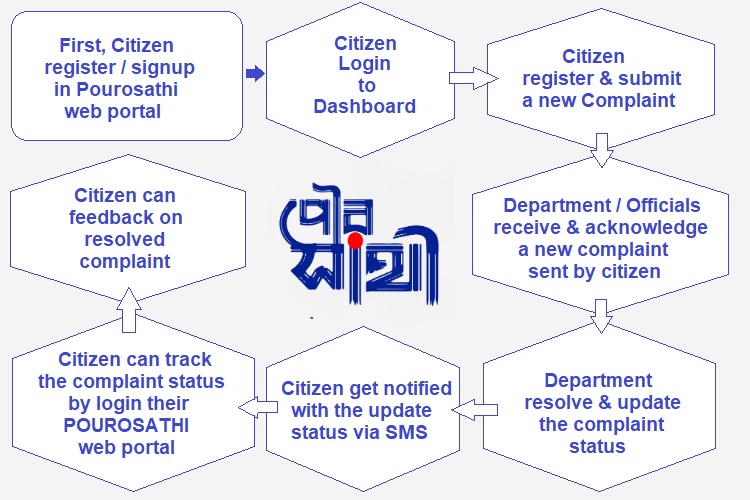 1. Introduction
Welcome to POURO SATHI, a web-based public grievance and redressal monitoring system initiated by Barrackpore Municipality. This system aims to establish a strong connection with the citizens by providing speedy and timely redressal of complaints related to municipal services. POURO SATHI is developed under the National Clean Air Programme (NCAP) to enhance municipal services such as Solid Waste Management, Public Health, and various other municipal matters.
2. System Access
To access POURO SATHI, you need a device (computer, smartphone, or tablet) with an internet connection. Open a web browser and enter the following URL: pourosathi.in.
3. Registration
If you are a new user, you need to register on POURO SATHI before lodging a complaint or tracking its status. Follow these steps to complete the "Citizen Registration" process:
On the homepage, click on the "Signup" link.
then, Citizen Registration page will appear
Fill in the required information, including your name, mobile number, and security code (captcha).
Click "Next" button
Then enter One Time Password (OTP) which will be sent to your entered mobile number and then click "Next" button
Now, enter a username and password for your account. Make sure you confirm your entered password again.
then click on "Finish" button to complete your registration. And you will get a confirmation message and receive a SMS to your entered mobile number with the information of registered username and mobile number.
Finally, click "Ok" button to get the login area.
4. Logging In
After successful registration, you can log in to your POURO SATHI web portal using the following steps:
On the homepage, click on the "Citizen Login" tab. (By default "Citizen Login" shows here, so no need to click "Citizen Login" tab.)
Enter your registered username, password and security code (captcha).
Click "Login" to access your account.
5. Dashboard
Once you log in, you will be redirected to the dashboard. The dashboard provides an overview of your account and the status of your complaints. It may include the following sections:
User Profile: View and update your personal information.
Change Password: Here you can change your password. We advise you to change your password frequently as a security measure to protect your account.
Grievance / Complaints: Here you can register your new grievance / complaints. You can check your open complaints. You can view your closed complaints. You can give feedback on your resolved complaints.
SMS Notifications: You will receive SMS on complaints registration and updates on resolved of your complaints.
Help: Access user manuals and Frequently Asked Question (FAQ).
6. Registering a Complaint
To register a complaint on POURO SATHI web portal, follow these steps:
Log in to your account.
Click on the "Complaint Registration" link under "Grievance / Complaints" on the dashboard.
Provide details of your complaint, including the Complainant's Name, Grievance Category, Ward No, Road Name, Grievance Location, Nearest Landmark, Grievance Details, and any supporting documents or images.
Submit the complaint form.
You will receive a confirmation message and a sms to your mobile number with your registered complaint ID for reference.
7. Tracking Complaint Status
Once you have registered a complaint, you can track its status using the following steps:
Log in to your account.
Go to the "Grievance / Complaints" section on the dashboard.
Find the relevant complaint from the list.
Click on the complaint to view its details and current status.
8. Participatory Governance
POURO SATHI encourages participatory governance by involving citizens in the decision-making process. You can contribute to the improvement of municipal services in the following ways:
Provide feedback on the quality of services received.
and Suggest ideas for enhancing municipal services.